Classic Singer 301 301A Vintage Sewing Machine Review
All Rights Reserved Copyright 2008-2010 -What does this mean? (NOTE: you may NOT use my photos or text to sell your stuff!)
The 301 (aka 301A) is often referred to as the "big brother/sister" to the Singer Featherweight 221. Well, they are both wonderful, classic Singers, but lets look at exactly what they have in common and what's different about them.
First, what they have in common:
Vertical, side loading rotary hook
Class 221 bobbins
Aluminum body
What's different:
Weight
Size
Presser foot and shank style
Motor/drive system
Handle
Feed dog drop
marked needle/ throat plate (pre-1955-ish FW's have a plain needle plate)
So, lets talk specifically about the 301. This machine came in 3 factory colors. Mocha, LBOW (Light Beige/Oyster White two tone) and black. The Mocha and the black came in long and short bed varieties. There is a higher demand for the black 301's, but I find the LBOW and mocha machines to be easier on my eyes. The color is more neutral, and results in less eye strain for me.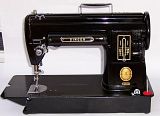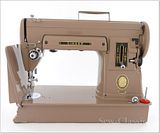 click on image to enlarge
The 301 short bed can be installed into a Singer cabinet with the "cradle" adapter. This allowed the machine to transform from a light weight portable with a handle to a console model in just a matter of seconds. The long bed machine cannot be installed into a cabinet.
Specifications for the Singer 301 (with comparison notes about the Featherweight):
Aluminum body
Weight - approximately 16 pounds (Featherweight weighs about 11)
Uses standard home sewing machine needles (HAx1, 15x1, 130/70H, SY2020, etc..)
Uses Class 221 bobbins
Slant shank (Featherweight has a vertical low shank)
Slant needle (Featherweight is a verical needle)
Gear drive (FW is belt driven)
Front mounted light
Vertical, fully rotary hook, side loading bobbin
Built in, hinged handle (no handle on the FW)
Straight stitch only
Feed dogs DROP! (No feed dog drop on the FW)
Marked Needle plate /calibrated throat plate STANDARD (not standard on the FW)
Unlike the Featherweight, the 301 is a FULL SIZED machine. This gives you more room for sewing bulkier items and more piercing power. The 301 weighs a good 5 pounds more than the featherweight, but it has a built in handle on the top which makes moving and or carrying it much easier. The handle folds down when not in use.

The 301 is great for all types of sewing, but it is NOT industrial, industrial strength, commercial or professional grade. It's a very high quality, sturdy, domestic sewing machine suitable for piecing, quilting, garment construction, and a variety of sewing tasks. The Singer 301 is highly coveted by quilters for it's power, precision and wonderful free-motion capabilities.

When using a walking foot or FM foot, you may find that the last thread guide just above the needle interferes with the arm of the foot that fits over the needle clamp. If this is the case, you can remove that last guide temporarily (don't loose it or the screw) simply by unscrewing the fastener that holds it in place



click on images to enlarge
I've scanned the pages from an ORIGINAL Singer sales brochure. It's just so interesting I HAD to share it. I can almost imagine walking into the local Singer store back then….admiring the wonderful Singer machines that every homemaker dreamed of owning!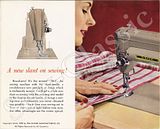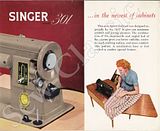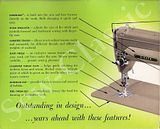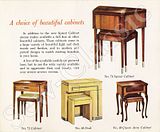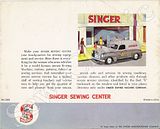 Click on thumbnails to enlarge


Attachments:



click on images to enlarge
To the left is a set of standard attachments that would have come with the 301 when new. This is the button controller for a Mocha colored machine, but these could be black or dark brown as well. Besides and array of slant shank sewing feet, there are buttonholers and zigzag attachments for these machines. The slant shank, straight stitch buttonholer works GREAT! The zigzag attachments are fun to play with, but only produce good results on fabrics with more body or that are stabilized. Just be aware of their limitations before you invest in one.

The original 301 case was a grass cloth covered trapezoid shaped case as shown below.



click on images to enlarge
Common issues with "attic fresh" Singer 301's:

Missing parts - make sure the tension assembly is complete and functioning. Be aware that some parts are only available from a donor machine Bobbin cases cost upwards of $35 to replace so you are going to want to know if it is included or not.
Rotten bobbin winder tire
Stiff or seized internal components
Broken presser bar spring- I've found this on two 301's This spring is what allow the presser foot to exert downward pressure on the fabric- essential for proper sewing function.
The black 301's are slightly more prone to problems with the finish
It's common for the original cases to be in poor condition. All of them smell.
Missing or malfunctioning controllers
Deteriorated electrical cords
FYI- a machine advertised as "working" may not sew a stitch. It's common for people that are selling one to plug it in, see the needle go up and down and pronounce the sewing machine to be "working". Unfortunately, it's just not that simple.
Sew-Classic machines are fully serviced and refurbished to perform as designed by the manufacturer. Below, is a photo I took of some of the parts I removed from a Singer 301 during the refurbishing process. The parts are all clean and ready to be reinstalled. Even the motor was cleaned, inspected and serviced.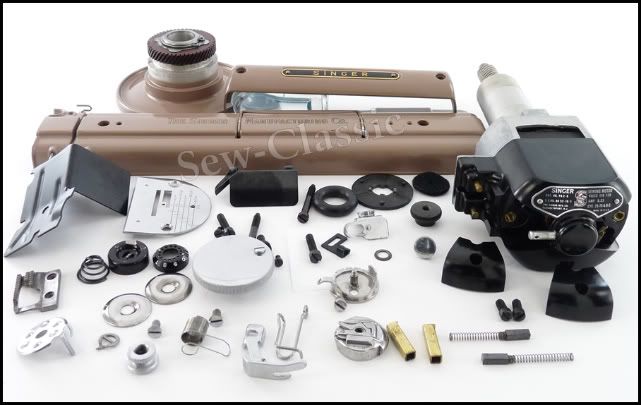 Trackbacks