Refurbishing a Vintage Sewing Machine- What's That?
There is often some misunderstanding about what is involved in refurbishing a classic sewing machine the Sew-Classic way. This process goes beyond what your local shop does when you take a machine in for a tune-up. The Sew-Classic refurbishing process is a much more inclusive, in depth and comprehensive procedure. I've taken a few photos that help illustrate this process on a
Singer 15-91
.

click to enlarge
With experience, I've determined what parts are beneficial and necessary to remove to properly service, clean and refurbish the machine. In this first photo, you will see some of the parts that I remove and disassemble. These parts have already been cleaned and are ready to be put back on the machine and adjusted as required. I have actually partially reassemble a few items for fear of loosing or damaging the teeny tiny or delicate parts.

I don't remove every single component from the machine. That would be, simply put, stupid. A good mechanic doesn't attempt to fix what ain't broke.

click to enlarge

Then there are the electrical components. It was necessary to partially reassemble the motor in order to place it in the photograph and not risk damaging it, but I still think the photo conveys the concept that i it needs to be taken apart for proper servicing and re-wiring. The absolute, vast majority of potted motor machines (15-91 and 201-2) that cross my bench require re-wiring. How do you know if a machine needs to be re-wired? This article explains how to inspect the wiring.

You can see that the light fixture is only partially disassembled. In order to rewire these, I must take apart and clean up the switch as well. The switch is put back together for the photo. These parts have also been cleaned and serviced and are ready for reassembly.

The EASY way to repair or re-wire the light fixture.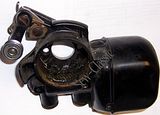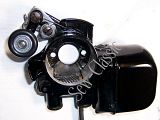 (click to enlarge)
Above, there are some before and after photos of the motor/ worm gear on a potted motor Singer. See all that dirty, nasty, old grease? That is what was supposedly lubricating the motor bearings before the machine was refurbished. - yuck!
Products to Oil & Lubricate a Sewing Machine
Then, there is the head. It looks weird all "naked", huh?

This one has been cleaned and the finish has been waxed and polished. It's all ready for reassembly as well, and it is going to be stunning when it's all back together. Yes, that is a centennial badge.
UPDATE: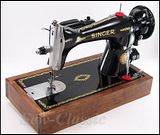 click to enlarge
All back together! What a STUNNING machine! And it will sew and function just as nice as it looks. After all, it's Sew-Classic!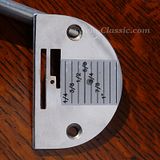 More info on an INSTANT marked needle plate for any vintage machine!
Trackbacks