Classic Singer 99 Vintage Sewing Machine Review
All Rights Reserved Copright 2008-2009 -What does this mean? (NOTE: you may NOT use my photos or text to sell your stuff!)
Don't let the smaller size of the Singer 99 sewing machine fool you for one minute. This machine is a beefy little tank of a sewing machine that will last for generations with just a little bit of care.
When in proper, serviced condition, the 99 will sew delicates to denim and handle any of your household sewing needs with ease. This review will give you the specifications and other information to help you get to know the Singer 99 and why it's considered sew classic. (free manual download at the bottom of the page)
The machine is a ¾ (three-quarter) size head due to it's shorter "wheel base" so to speak, so it won't fit in a standard size cabinet or case. It's important to be aware that the Singer 99, like it's larger, "twin" sibling the Singer 66, cannot be used directly on a table top surface. It must be either mounted in a cabinet, case or other suitable base for the parts on the under side of the machine to be able to move and function properly. As a side note, the Singer 66 is basically a full sized version of the model 99.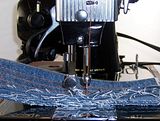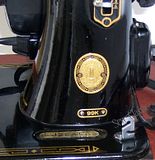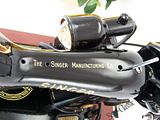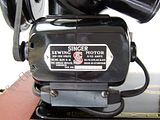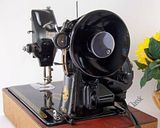 (click on thumbnails to see larger photo)
Specifications for the Singer 99:
¾ size cast iron head with all metal linkages
Weight- about 22 pounds (not inc. the case)
Low shank, screw-on feet
Standard sewing machine needle (130H/705H or 15x1 needle systems)
Adjustable stitch length
Back tack function on some versions of this model
Belt driven
Built on light
Oscillating, horizontal hook with a drop in bobbin - class 66
Straight stitch only
Uses feed cover plate- feed dogs don't drop.
People often mistakenly refer to the Singer 99 as a "Featherweight". It's not. The Singer model 221 and 222 are the real Featherweight models.

To the right, is a photo of a Singer Featherweight 221 sewing machine.

I LOVE the Singer 99 for teaching beginners to sew, and I absolutely love this model for kids. Often, the temptation when buying a machine for a youngster or a begineer is to get them one of the small, cheap plastic machines. It has been my experience that these machines get broken much to easily for a youngster or many beginners to learn to sew with out frustration. The lightweight machines often end up stuffed in the back of a closet with other toys and junk piled on top of them, and they tend to bounce around on the table while sewing. They are also prone to getting knocked out of time. The Singer 99 is striking to look at, built like a tank, stays put, and will sew gorgeous stitches for generations on a wide range of fabrics. Timing adjustments are very rarely (dare I say never?) needed on a Singer 99. So, you can understand why I love this machine for kids and beginners.

(click on Thumbnail to enlarge)

Here's my favorite part - it can be converted from electric to hand crank and back again! This is great for the youngest kids. There are no worries that the machine will "run away" on them, because the child IS the motor. Of course, young children should always be supervised. You just never know what they'll do when you look the other way. The hand crank is also great for sewing aboard a boat, at the cabin, on the patio or anywhere that an electric outlet might not be handy. I always thought that it would be hard to guide the fabric with one hand while cranking with the other, but once I gave it a whirl, I was surprised at how easy it really was. Yes, you can convert some of the full size machines to hand crank as well, but they weigh 10 pounds more and take up a bit more space. The 99 provides full size beefiness in a 3/4 sized package.

A Little Convertible for Summer - Singer 99 Hand Crank to Electric & Back Again!
These machines offer a tremendous value. A fully service, refurbished and guaranteed Singer 99 can be purchased for about the same price as one of the cheap, flimsy, plastic, made in China, disposable machines from the discount store. As far as quality and durability, the discount store machine can't even come close to the Singer 99.

Some Varieties of the Singer 99:
99K10 - Aluminum rather than iron head (not common)
99K13 - Electric portable with wooden cover or carrying case, knee control
99K16 - All metal (electric) portable with carrying case
99K17 - All metal (electric) portable with carrying case
99-31 Newer model with back tack abilities
185K- "modern" looking version of the 99-31. minty green, sleeker lines, mechanically identical to the 99-31

The "K" in Model name indicates it was made in Kilbowie, Scotland
Things to watch for when buying an "atitc fresh" Singer 99:

Inspect all electrical wiring carefully- rewiring is often needed
Look for missing or worn hook lubricating felt
Rotten/dry/crumbling bobbin winding tires
Missing tension parts
Missing knee levers (for those that came with one)
Bent or broken spool pins
Mising bobbin cover/slide plates
Siezed, rusted or frozen mechanisms
Feed dog adjustments sometimes needed
Is the Singer 99 INDUSTRIAL STRENGTH?? There is a full exlination of this, and other marketing terms in the eBay Sewing Machine Buying Guide - just scroll about 1/2 way down the article. In reality, the Singer 99 is a fine, well built, sturdy, strong HOUSEHOLD sewing machine. If it were industrial in ANY way it would weigh about 4 times as much, and would be mounted into a large industrial table. It wouldn't be so darn cute either!

Industrial, Commercial Grade, Professional, Industrial Strength & More- Sewing Machine Buying Guide

FREESinger 99 manual(download in PDF form)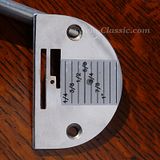 More info on an INSTANT marked needle plate for any vintage machine!
Trackbacks