Slanted Stitches? Why the Stitches Aren't Straight & What to do About It.
Hmmmm… The straight stitches aren't straight. Instead, they're slightly slanted. OH NO!!!! This is a sure sign of poor stitch quality, and a sub-par sewing machine, right?? Well....perhaps you need to look at the mechanics of a stitch before you draw that conclusion and toss your machine out the window.
| | |
| --- | --- |
| First of all, you have to realize that stitches aren't really "straight" lines of thread at all. A line of stitching is actually a series of coils or knots in which two threads wrap around each other. In order for them to look like straight lines of thread, the fabric must have enough body to hide the stitch coil (knot) and 'pull' the thread back to the visual center as illustrated here. | |
But do your stitches look more like this?

That's because with heavier threads or lighter weight fabrics, things happen differently. In this instance, the fabric doesn't have enough body (thickness or density) to hide the coil (knot) portion of the stitch and pull the thread back to the visual center so the stitch appears "slanted". Notice that all of the holes are actually in straight alignment.

Is there anything that you can do to make it better?? Yes.

When sewing on woven fabrics, using the smallest possible size sharp point (not universal point) needle will poke a smaller hole in the fabric and help keep the stitch straighter looking.
Thread - On lighter weight fabrics, using a thinner/lighter weight thread and a shorter stitch length will help too.

If your machine has a straight stitch plate and a straight stitch foot, use those instead of the standard zigzag plate and foot. They will offer more support to the fabric at the point where the needle enters which can help make the stitch look straighter. However, there may simply be times and conditions when the best approach is to just accept a stitch for what it really is, a coil (knot) of two threads.

Do you still think that there might be something wrong with your machine? If so, you can do a few super simple, diagnostic tests to find out.

Take all of the thread out of the machine, set the stitch length to 0, and put a piece of slightly thicker paper under the presser foot. Turn the hand wheel or gently touch the controller so the needle goes up and down a few times in place. Is the needle going in and out of the same hole? It should. Still not sure? Set the stitch length to a longer stitch and 'sew' a few inches on the paper. Do the holes line up? Then the machine is sewing straight. Other than using a smaller needle or lighter thread, you can't "fix" what ain't really broken.

Animation of how a stitch is formed: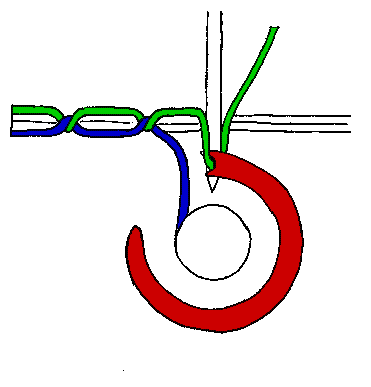 Trackbacks