Singer 15-91 Sewing Machine Review
All Rights Reserved Copright 2008-2010 -What does this mean? (NOTE: you may NOT use my photos or text to sell your stuff!)



click on image to enlarge

The Singer 15-91 is a one of the classic, black, cast iron Singers loved by sew many for sew long and for sew many good reasons! This attractive, vintage machine is noted for it's sturdy build, cast iron iron body and exceptional straight stitch. The 15-91 was made by Singer from the early 1930's through the mid 1950's. This review will cover the important points of this ever, Sew-Classic TM sewing machine and many of the available attachments and feet. (free manual download at the bottom of the page)


Click HERE for Singer 15-91 (15-90, 15-88, 15-89) Sewing machine Parts!
Here's the stats:
Weight - approx. 29 pounds
Hook type: vertical oscillating - side loading
Bobbin: Class 15
Bobbin case position finger - 11 o'clock position
Needles: Standard household sewing machine needles (system 15x1 aka 130/705H)
Motor: usually rated at about 0.6 amps with a direct, gear drive (no belt)- notice the little "pot" stuck on the back of the machine near the handwheel. This is the motor, often call a "potted" motor"
Has feed dog drop
Has true reverse feed
Presser feet: screw-on low shank
Adjustable presser foot pressure
Adjustable stitch length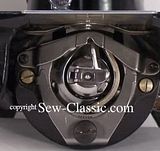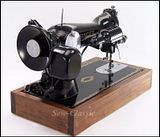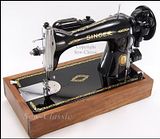 click on images to enlarge
This machine has a generous harp size (space to the right of the needle and to the left of the pillar) and plenty of room around the needle bar. These features combined with it's excellent ability to free-motion quilt and to handle odd ball threads makes this machine a favorite with quilters. The machine is extremely sturdy with very good piercing power when in proper working order.
Finding feet and attachments is a snap. The 15-91 uses the common, low shank, screw-on feet.

| | |
| --- | --- |
| | To the right is an excerpt from a 1951 Singer Sales brochure |


The stitch quality and fine movement of this model makes it ideal for all kinds of sewing. The small needle plate opening provides excellent support for light weight and delicate fabrics, so this machine isn't just for hemming jeans and quilting. It truly can master a wide range of sewing applications. Yes, it can sew clothing weight leather, upholstery, canvas, denim, as well as silk and even polyester.

The gear drive provides smooth power delivery, and there is never any worry about worn, slipping or mal-adjusted belts - ever!

Now, this is a household, domestic sewing machine. The is NOTHING industrial about it. However, due to its sturdy build, dependability, and overall quality, this model has been favored by tailors, dressmakers, quilters, and some "cottage" type business applications. To learn more about de-bunking the myth of "industrial strength", commercial grade, and other erroneous, marketing terms, read my blog entry, Guide to Buying a Sewing Machine on eBay



Usually, the 15-91 is a cabinet model, but you can install them in a case or base as shown in the first photo. In reality, a nearly 30 pound machine isn't exactly 'portable', and the extra work space that the cabinet's offer are absolutely fabulous. Plus- when you're not sewing the cabinets are quite attractive. The Singer cabinets often have a knee lever for activating the controller. This keeps the button foot controller up off the ground, but if you prefer to use the controller as a foot activated devise, just slide the controller out of the bracket under the table and set it on the floor.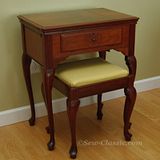 ;
click on image to enlarge
Another upgrade that I like to make to the Singer 15-91 is adding a marked needle plate. Originally, the Singer 15-91 (& others) came with an unmarked, plain needle plate, and this is why thrift store machines often come with gobs of tape on the surface of the bed. After 50 years in one spot, this stuff isn't coming off easily!

The marked needle plate makes for quick & easy reference, accurate seam allowances. These can be purchased here.



One of my favorite attachments is the automatic buttonholer. Yes, it makes absolutely GORGEOUS buttonholes! The Singer 15-91 can use any of the Singer LOW SHANK buttonholers. The low shank units originally came in an emerald green or black treasure chest style case and in the oblong, bullet shaped aqua colored case (not shown).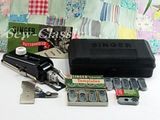 click on image to enlarge



My favorite walking foot for the low shank, straight stitch machines like the 15-91 is a Special, STRAIGHT STITCH ONLY walking foot. No, it's not the same as the $500 vintage Singer "black penguin" (as it is called) walking foot, but I have had the best results with this foot over any other modern walking foot on the straight stitch machines. In fact, I rather like it, and it's price of about $20-$25.

Notice how the needle opening on the foot is a small round hole and the walking mechanism on the bottom of the foot is narrow- just like the feed dogs on the 15-91 and other low shank, straight stitch machines.As a side note,: No walking foot attachment actually "feeds" the fabric. What it does do is reduce/remove the friction and resistance of the solid presser foot on the top layer of fabric. This helps keep the top layer from stretching or shifting and promotes even feeding.

(More information about this foot here)

Want one for your machine? You can Purchase it HERE.




I'm also a big fan of the fine rolled hem that this machine will produce with the rolled hem foot. I used this foot to make quick work of this top (Simplicity 3842).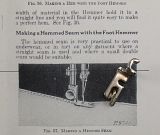 click on image to enlarge
Some more photos of the standard feet that came with the 15-91 when it was new: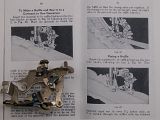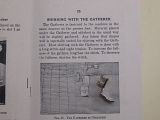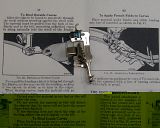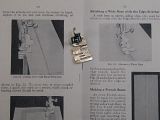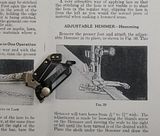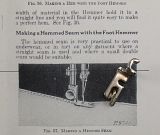 click on image to enlarge
There are many other attachments available for the 15-91, including the zigzag attachment shown below. It works best with fabrics that have more body and substance. The results are less than ideal with the attachment when using lighter weight fabrics.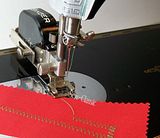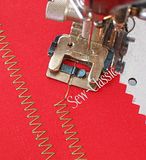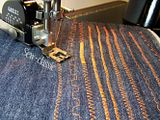 (click on thumbnail to enlarge)

What to watch out for on this machine when purchasing a non-refurbished ("attic fresh") machine:

Deteriorated wires to the power cord, foot controller, motor and light fixture are very common
. Inspect all of the wires and the connections behind the terminal at the back of the machine. I would say that over 90% of the 15-91's that cross my bench require some, if not all, of the electrical wires to be replaced. Dangerous wiring is extremely common. In order to properly inspect the wires, one must remove the terminal from the back of the machine and inspect all the wires and connections. Bend, squeeze and examine the wires coming out of the motor very closely. Over 90% of the 15-91's that cros my bench need to have these wires replaced.
Leaving the old wires in place is hazardous
. The light fixture is a pain in the neck to open up and rewire. More info -
How to inspect the electrical wires on a vintage machine
The EASY way to repair or re-wire the light fixture
.

(click on images to enlarge)
Above- before complete servicing


(click on images to enlarge)
After Servicing

After 50 to 70 years the grease that lubricates the motor bearings and the gear drive gets very dirty, breaks down and sometimes even cakes up. It's best to completely remove this old grease, clean the bearings, lubricating wicks and worm gear and them replace the grease. In order to do a through job, I have found it's best to remove the motor armature completely.

I have seen machines where someone used a lithium based grease on the machines, and it was always hard - like brittle hunks of cement which have to be scraped and chipped off of the parts. So, I always caution against using a lithium base grease for this application.

These machines run some much smoother, faster and quieter after this intensive servicing. The difference is like night and day!
Other common issues: broken bobbin winder springs, rotted bobbin winder tires, missing or broken bobbin cases, seized parts, missing or broken tension parts (especially the take up spring), gummed up tension discs, broken or missing spool pins, mal-adjusted bobbin winder & pre-tensioner.
For more details, see this article on Refurbishing the Singer 15-91

Bottom line, if you are looking for an heirloom quality, strong, sturdy, fine quality sewing machine that is simple to use and maintain, the Singer 15-91 is an EXCELLENT choice.

Other, similar Singer class 15 models:
15-125- mechanically identical to the 15-91. Introduced in 1957, potted, gear driven motor, "updated, modern" design, green
15-75- Just like the 15-125, except belt driven, external motor, black
15-90 - solid hand wheel, external motor, belt drive- everything else is identical to the 15-91
15-89 - Natural born hand crank, spoked handwheel, no motor, otherwise- just like the 15-90 and 15-91
15-88 - spoked hand wheel, most often treadle operated, but sometimes equipped with an orignial Singer motor (see photos below)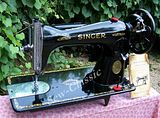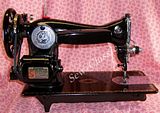 (click on images to enlarge)
Singer 15-88
Free 15-91 MANUAL (download in PDF form)

LINK TO FREE BUTTONHOLER MANUAL (download inPDF form)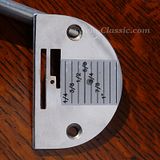 More info on an INSTANT marked needle plate for any vintage machine!
Trackbacks